To begin an In Person Sales meeting, either use the quick link on your Dashboard, in the Manage In Person Sales Meeting section, or on the calendar meeting that was provided.
Title Screen
1. The Title Image
This is the title image from your album. Horizontal images will show the menu (4-7) on the bottom right.
2. Album Name
This is your album's name.
3. Date of Meeting
This is the date you specified for the meeting when you created the in-person sales opportunity.
4. View Slideshow
Click on this to start a slideshow. It auto plays and shows each image for 5 seconds. If you get antsy you may navigate with the left and right arrow keys. You can click the play button to continue playing from the image you are currently viewing (starting with that image for 5 seconds).
‍
You can access the menu by clicking the Show Menu button on the bottom right.
‍
5. Choose Images
This is where you can work with your client to pick favorites viewing images one at a time. The images given a thumbs down will be put at the bottom of the photos tab in the Designer, but any suggestions you created with these images will still show up.
Click on the check mark/ X icons to specify what they like and don't like. If you're not on a tablet you will see additional keyboard shortcuts that are available.
6. Compare Images
Need to see a series of images side-by-side to further narrow down client favorites?
Here's what to do:
Tap the Compare Images button (see images below)
‍
‍
Select the images you'd like to compare. Tap the Compare button. (See image below.)
Cull out the ones your client doesn't care to keep. Tap Done. (See image below.)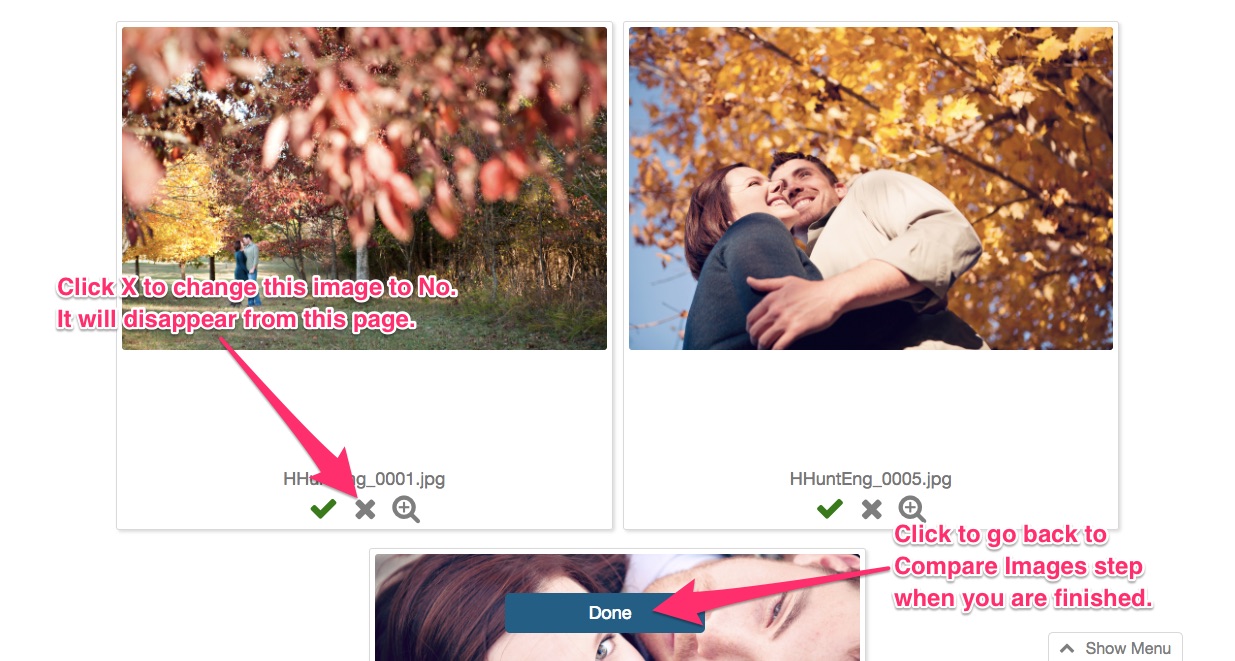 ‍
6. Design Galleries
Ready for the moment of truth? Click on this to begin designing for In Person Sales mode.